Heather Edwards
We're All Mad Here - Disney Limited Edition
We're All Mad Here by Heather Edwards
Alice featured coming down the rabbit hole, along with other Wonderland characters.
Artwork inspired by Walt Disney's 1951 classic film character Alice in - Alice in Wonderland.

Disney Limited Edition Paper Collection
Edition Size: 95
Image Size: 24" x 12"
Hand-Remarqued and signed by artist Heather Edwards
Certificates of Authenticity.
Ships - Unframed 

About the Chiarograph (Key-ar-oh-graph) process. 

The Chiarograph is a proprietary printmaking technique that combines the latest digital printmaking processes with traditional hand-worked craftsmanship. Each piece begins with an individually hand-applied substrate that is meticulously printed over. So, while it is true that each Chiarogragh uses the same image, the individual hand preparation results in a one-of-a-kind print.  No two prints are identical. 

The beauty of this process is in its spontaneity and its combination of printing making and painting.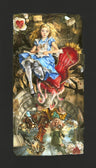 We're All Mad Here - Disney Limited Edition