Peter and Harrison Ellenshaw
Feed the Birds - Disney Limited Edition
Feed the Birds by Peter and Harrison Ellenshaw
A flock of birds flies over London's St. Paul's Cathedral.
Artwork inspired by Walt Disney's 1964 American musical fantasy film. Mary Poppins.

Disney Limited Edition Chiarograph on Paper

Edition Size: 295
Signed by artist Harrison Ellenshaw
Peter Ellenshaw estate signature
Image Size: 13" x 7"
Certificate of Authenticity.
Ships Unframed
Storyline
Walt Disney's favorite song from "Mary Poppins" is recreated here in a Peter Ellenshaw rendering of the Bird Lady on the steps of London's St. Paul's Cathedral. This chiarograph on heavy black paper stock is taken from Peter's production illustration painted in 1965 showing his impression of how the scene would appear in the Oscar-winning film. To "Mary Poppins" fans worldwide this has become an iconic image of what is most important in our lives. - Disney Wiki
About the Chiarograph (Key-ar-oh-graph) process. 
The Chiarograph is a proprietary printmaking technique that combines the latest digital printmaking processes with traditional hand-worked craftsmanship. Each piece begins with an individually hand-applied substrate that is meticulously printed over. So, while it is true that each Chiarogragh uses the same image, the individual hand preparation results in a one-of-a-kind print.  No two prints are identical. 
The beauty of this process is in its spontaneity and its combination of printing making and painting.
The Magic of Disney Fine Art


There's a reason Disney's movies resonate with so many—the stories are rich with character, inspiration and so much more. The talented artists behind our Disney Art Collection have recreated those ever-lasting stories in each painting for us to enjoy and treasure for years to come.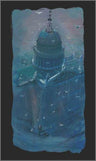 Feed the Birds - Disney Limited Edition