Stuart Craig
Journey on the Hogwarts Express - Harry Potter Limited Editions
Journey on the Hogwarts Express by Stuart Craig.
The Hogwarts Express train making its run between London, King's Cross Station Platform 9¾, from the movies_Harry Potter and the Sorcerer's Stone.

Artwork inspired by Harry Potter is a film series based on the eponymous novels by J. K. Rowling and the first movie released by Warner Bros in  2001,
Harry Potter Limited Editions Collection
Limited Edition prints of the making of Harry Potter production Film Art by designer Stuart Craig.


Limited Edition Paper
Edition Size: 500
Image Size: 12" x 21"
Numbered
Signed by artist Stuart Craig
Certificate of Authenticity


Limited Edition Canvas - SOLD OUT

Edition Size: 250

Image Size: 20.5" x 35.5"
Signed by Stuart Craig

Certificate of Authenticity
Ships Rolled
Key Notes

The train leaves Platform 9¾ without fail on 1 September at 11 a.m., arriving at Hogsmeade Station in the early evening. Some students take the train back to King's Cross Station to go home for the Christmas and Easter holidays, but some do not, as they stay at Hogwarts. It also makes the run back again to London at the end of the term in June. 

The Hogwarts Express is the name of the train that makes a run between London, King's Cross Station Platform 9¾, and Hogsmeade Station. It makes this run at about six times a year, maybe more, as needed. The Express dutifully carries students to and from Hogwarts School of Witchcraft and Wizardry at the start and end of every term.  - Clampett Studios


THE MINISTRY MAGIC OF HARRY POTTER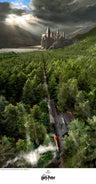 Journey on the Hogwarts Express - Harry Potter Limited Editions