Rob Kaz
Snow Speeder Fly Over
Snow Speeder Fly Over by Roz Kaz.
The Battle of Hoth, the Snow Speeder and AT-AT Walker collide. Artwork inspired by Star wars: The Empire Strikes Back.
High-quality reproduction canvas giclée prints from the original created by – artist Rob Kaz.

Stat Wars - Limited Edition Canvas 

SN - Edition Size: 195
AP    Edition Size: 20 - Hand-Embellished 
Image Size: 30" x 15"

Signed by artist Rob Kaz
Certificate of Authenticity.
Options: Gallery Wrap or Black Floater Frame
Key Notes
Snow Speeder -When stationed on Hoth, the Rebel Alliance modified T-47 air speeders to become snow speeders, fast flying conveyances for patrol, and defense of their hidden base. It took some doing to keep the crippling cold from permanently grounding their air force, but Rebel ingenuity overcame the relentless Hoth elements. The T-47 air speeder is a small, wedge-shaped craft with two forward-facing laser cannons. In its rear arc is a harpoon gun fitted with a heavy-duty tow cable. The snow speeder is a two-person vessel, with a pilot and rear-facing tail gunner.
 IN A GALAXY FAR FAR AWAY
Star Wars Art Collection presents the artwork of today's most talented concept artists in a series of Limited-Edition art that captures iconic scenes from Star Wars™ live-action movie films. Each work of art brings the conceptual vision of recreating the stories in this collectible art for us to Enjoy!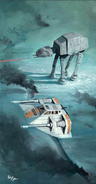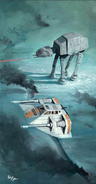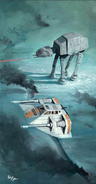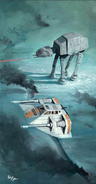 Snow Speeder Fly Over