John Romita Sr
Spider-Man in the Rain - Marvel Limited Edition
Spider-Man in the Rain by John Romita, Sr.

Spider-Man squatting down on top of a high building as rain drips down on him.

Marvel Limited Edition Collection

Edition Sizes: #29/50 
Size: 30" x 20"
Comes Gallery Wrap - Ready to Hang
Signed by John Romita, Sr.

Certificate of Authenticity
Made in the USA.
MARVEL SUPERHEROES ART COLLECTION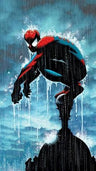 Spider-Man in the Rain - Marvel Limited Edition