Brent Woodside
The Mandalorian - A Foundling In Your Care
A Foundling In Your Care By Brent Woodside  
Mando and the Child Artwork inspired by Star Wars: The Mandalorian

Star Wars - The Mandalorian Artwork Collection   
Limited Edition on Paper
Edition Size: 395 
Paper Size: 24" x 12"
Hand-Numbered Only
Certificate of Authenticity

Made in the USA.
 "This is the Way." — The Armorer
The Mandalorian™ Collection presents the Conceptual Art as seen in the end credits sequences of The Mandalorian, by today's top concept artists. In a series of Limited-Edition art that captures iconic scenes from each chapter of the Disney+ Star Wars™ live-action series. Each work of art brings the conceptual vision of recreating the stories in this collectible art collection for us to Enjoy!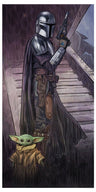 The Mandalorian - A Foundling In Your Care