Stephen Fishwick
Closet Full of Monsters - Disney Limited Edition Canvas
Closet Full of Monsters by Stephen Fishwick
Sully and Mike try to scare the 2-year little girl named Boo.
Artwork inspired by Pixar's 2001 American computer-animated comedy film characters in  - Monsters, Inc. 
 
Disney Limited Edition on Canvas
Edition Size: 95 
Image Size: 36" x 18"
Hand-Numbered and signed by artist - Stephen Fishwick
Studio Embellished, which adds hand-painted accents to the canvas
Certificate of Authenticity.
Options: Rolled, Stretched, or *Gallery Wrapped
*Best Seller: Gallery Wrap is ready to hang. The back of the artwork is affixed with a wire for easy wall hanging. (wall hook not included).
Storyline

Monsters Incorporated is the largest scare factory in the monster world, and James P. Sullivan is one of its top scarers. Sullivan is a huge, intimidating monster with blue fur, large purple spots, and horns. His scare assistant, best friend, and roommate is Mike Wazowski a green, opinionated, feisty little one-eyed monster. Visiting from the human world is Boo a tiny girl who goes where no human has ever gone before. - Monsters, Inc. - Wiki
The Magic of Disney Fine Art


There's a reason Disney's movies resonate with so many—the stories are rich with character, inspiration and so much more. The talented artists behind our Disney Art Collection have recreated those ever-lasting stories in each painting for us to enjoy and treasure for years to come.  

Canvas 
Premium Canvas
Gicleé canvas print using archival inks and materials
Long-life pigment inks that outperform conventional press inks.
Made in the USA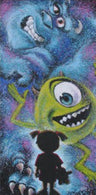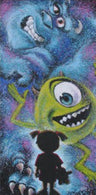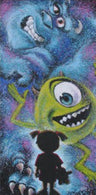 Closet Full of Monsters - Disney Limited Edition Canvas