Christopher Clark
Confronting Vader
Confronting Vader by Christopher Clark
Darth Vader with a lightsaber in hand. Artwork inspired by Star Wars: A New Hope.
High-quality giclée, reproductions from the original created by illustrator – artist Christopher Clark.

Limited Edition Paper  
Edition Size: 77
Paper Size: 17" x 22"
Image Size: 10.5" x 21"
Hand-Numbered
Certificate of Authenticity

Limited Edition  Canvas

Edition Size: 77
Image Size: 3.5ft x 7ft - Life-Size

Signed by Christopher Clark
Certificate of Authenticity
Ships Rolled
IN A GALAXY FAR FAR AWAY
Star Wars Art Collection presents today's most talented artists is a series of Limited-Edition art that captures iconic scenes from Star Wars™ live-action series. Each work of art brings beloved characters and stories to life with the interpretive and conceptual creativity of the artists - for us to collect and Enjoy!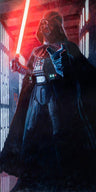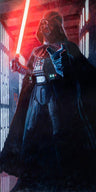 Confronting Vader