Stuart Craig
Creating Hogsmeade - Harry Potter Limited Edition Paper
Creating Hogsmeade by Stuart Craig.
The making of Hogsmeade Village or simply called Hogsmeade is the only all-wizarding village in Britain. 

Artwork inspired by Harry Potter and the Sorcerer's Stone movie film series based on the eponymous novels by J. K. Rowling and the first movie released by Warner Bros in  2001,

Harry Potter Limited Edition Fine Paper Collection
Edition Size: 500
Image Size: 30" x 16"
Signed by art designer Stuart Craig
Certificate of Authenticity
Ships Rolled
Key Notes
The art showcases the visual development process in filmmaking, starting with the top frame of Stuart Craig's concept sketch, the middle frame the image rendered digitally in color, and the bottom includes a frame from the finished film.

THE MINISTRY MAGIC OF HARRY POTTER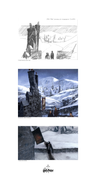 Creating Hogsmeade - Harry Potter Limited Edition Paper