Alex Ross
La Belle ET La Bete - Disney Limited Edition Litho
La Belle ET La Bete by Alex Ross

Belle holding a Red Rose, and the Beast is standing tall behind her.
Artwork inspired by Walt Disney's 1991 animated film character Belle - in Beauty and the Beast.
Disney Limited Edition Fine Paper Lithograph.
Edition Size: 250
Paper Size: 26" x 14"
Certificate of Authenticity.
Made in the USA.
Ships Rolled
The Magic of Disney Fine Art


There's a reason Disney's movies resonate with so many—the stories are rich with character, inspiration and so much more. The talented artists behind our Disney Art Collection have recreated those ever-lasting stories in each painting for us to enjoy and treasure for years to come.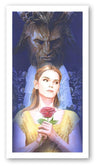 La Belle ET La Bete - Disney Limited Edition Litho