Alex Ross
Marvelocity: Fantastic Four - Marvel Limited Edition
Marvelocity: Fantastic Four by Alex Ross.

"Marvelocity: Fantastic Four" was created as the dynamic wraparound cover for the long-awaited Marvel Comics retrospective art book, Marvelocity, by Alex Ross and writer Chip Kidd.  

Marvel Limited Edition Collection
Canvas reproduction from the original painting signed by artist legendary artist Alex Ross.
Edition Sizes: 44 Reg 
Image Size: 33" x 20"

Signed by artist Alex Ross
Certificate of Authenticity
Made in the USA.
Key Notes

Ross pays homage to the classic 1961 cover, Fantastic Four #100 by Jack Kirby.  This image features the Human Torch, Mr. Fantastic, the Invisible Girl, the Thing, Crystal, the Hulk, Diablo, Doctor Doom, Dragon Man, Hate-Monger, Igor, Kang, Mad Thinker, Mikhlo, Peotor, the Puppet Master, Red Ghost, Sandman, Sentry, Sub-Mariner, Super Skrull, Trapster, and Wizard.

 MARVEL SUPERHEROES ART COLLECTION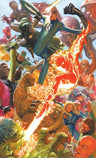 Marvelocity: Fantastic Four - Marvel Limited Edition