Alex Ross
Space Ghost - Limited Edition
Space Ghost is a dramatic illustration by Alex Ross. It depicts Space Ghost, the interstellar police officer, transformed from the lovable Hanna Barbera cartoon character into a photorealistic celestial superhero.


DC Comics Limited Edition Paper Collection
Edition Size: 50
Image Size: 14" x 26.3"
Signed by Alex Ross
Fine Art Giclee on Paper
Individually Numbered with a Certificate of Authenticity.
Ships Rolled

DC COMICS SUPERHEROES ART COLLECTION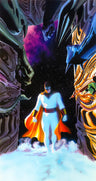 Space Ghost - Limited Edition