Stephan Martiniere
There Is No Try
There Is No Try by Stephan Martiniere

Yoda harnesses the power of the Force in the swamps of planet Dagobah. Artwork inspired by Star Wars: The Empire Strikes Back.
High-quality reproduction giclée print  from the original created by illustrator – artist  Stephan Martiniere.

Limited Edition Canvas
Edition Size: 195
Image Size: 30" x 19"
Signed by artist Stephan Martiniere
Certificate of Authenticity.
Options: Rolled or Gallery Wrap


Key Notes

The Force is an energy field surrounding all living things and generated by organic matter, accessed through communications with midi-chlorians, a microscopic life form that resides within all living cells. By harnessing the power of the Force, the Jedi, the Sith, and others sensitive to this mysterious spiritual energy may gain access to heightened awareness, extrasensory perception, and other abilities, like levitating objects and accessing visions of the potential future. Existing as both the living Force and the Cosmic Force, this mystical energy ultimately exists to provide balance to the galaxy. - Star Wars
IN A GALAXY FAR FAR AWAY
Star Wars Art Collection presents today's most talented artists is a series of Limited-Edition art that captures iconic scenes from Star Wars™ live-action series. Each work of art brings beloved characters and stories to life with the interpretive and conceptual creativity of the artists - for us to collect and Enjoy!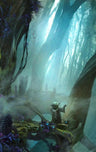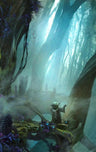 There Is No Try