Tim Rogerson
Wall•E and Eve - Disney Limited Edition Canvas
Wall•E and Eve by Tim Rogerson
Wall•E and Eve making hearts in space. 
Artwork inspired by Pixar's 2008 animated film WALL-E. A robot leaves Earth to chase a shapely mechanical scout across the galaxy. 


 Disney Limited Edition Canvas Collection

Edition Size: 195
Image Sizes:

 30

" x

 15

"
Hand-numbered and signed by artist Tim Rogerson
Studio Embellished, which adds hand-painted accents to the canvas
Certificate of Authenticity. 
Options: Rolled, Stretched, or *Gallery Wrapped
*Best Seller: Gallery Wrap is ready to hang. The back of the artwork is affixed with a wire for easy wall hanging. (wall hook not included)
The Magic of Disney Fine Art


There's a reason Disney's movies resonate with so many—the stories are rich with character, inspiration and so much more. The talented artists behind our Disney Art Collection have recreated those ever-lasting stories in each painting for us to enjoy and treasure for years to come.  

Canvas 
Premium Canvas
Gicleé canvas print using archival inks and materials
Long-life pigment inks that outperform conventional press inks.
Made in the USA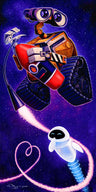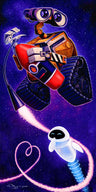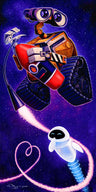 Wall•E and Eve - Disney Limited Edition Canvas